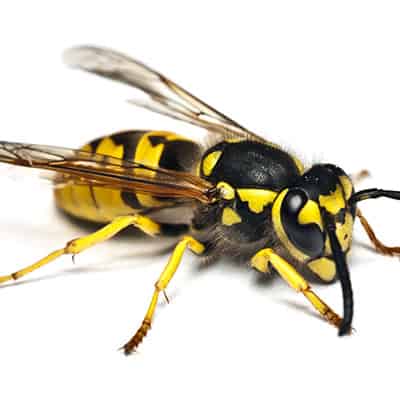 Wasps are generally 1 to 2 inches long, slender, narrow-waisted with long legs

Usually reddish-orange to brown or black in color
Smooth-skinned and shiny
Wasps can sting repeatedly and will often do so if they feel threatened or if they are defending their nest, unlike bees
Only attack humans when provoked
Only females have the ability to sting. Although some species of wasps may be very bothersome to people, majority of the species are solitary and non-stinging. Additionally, wasps are extremely important in the control of other pest insects because almost all pests are the food source for at least one species of wasp. Without the presence of wasps, this natural insect control would not be possible.
Different species of wasps vary greatly in appearance. All have one large and one small pairs of wings. Wasps can vary in color from the more familiar yellow to brown, blue and even a bright red.
We can help!
Get a free estimate and find out how we can solve your pest problems.