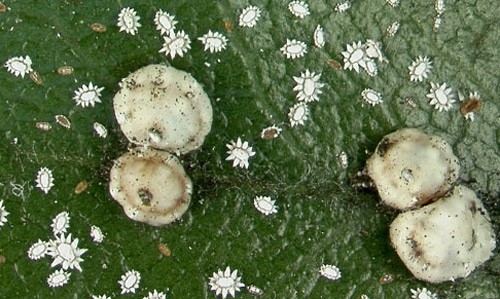 Scale insects are a diverse group of piercing-sucking pests (Hemiptera) commonly found on ornamental plants in landscapes and nurseries. They are small, inconspicuous insects which use hair-like mouth-parts to remove and consume plant sap from leaves or branches.
There are over 180 species of scale insects in Florida, but only a small percentage are important pests of ornamental plants. These insects can secrete a waxy covering that protects them from the environment and most chemical control measures.
There are several families of scale insects, but they are usually divided into two main categories, armored or soft. Identifying the category is important because their biology differs, and so does their control.
Armored scale insects feed on the contents of cells just under the surface of leaves and bark and excrete their waste to form a protective cover. This cover can be removed to reveal the soft-bodied insect feeding beneath. Cycads can be the home and feeding site of thousands of armored scale insects. Once female armored scales begin to feed on a host plant they will remain immobile in that location for the remainder of their life. Even after death, the scale insect cover can remain on the plant for several years. Armored scales are the most diverse group of scale insects in Florida with over 130 species. By comparison, there are only about 40 soft scale insect species in the state
Soft scales differ from armored scales in a few important ways. The waxy cover of soft scales is not separate from the insect's body and cannot be removed. Unlike armored scales, female soft scales are mobile during every life stage until they begin to produce eggs. Soft scales feed on the phloem vascular tissue of plants which transports the soluble organic compounds made during photosynthesis. Honeydew, a sticky amber colored fluid, is excreted as waste.
Most scale insect pests have a number of prey species which help control their populations. Among these are parasitic wasps, ladybugs, lacewings, and others. Let Well's Termite & Pest Control put together a plan for your trees & shrubs. Contact us today.
We can help!
Get a free estimate and find out how we can solve your pest problems.